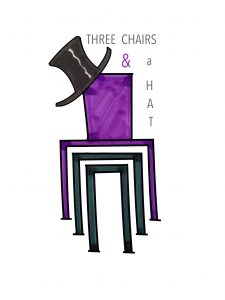 Don't get me wrong, I love West End glitz as much as anyone. My infatuation with musical theatre started in earnest at the age of 12, watching Fred & Ginger movies and Busby Berkeley extravaganzas on the TV. A good, old-fashioned, no-expense-spared show can still make my heart beat faster. But when it comes to staging my own work, my passion is for creating stories and situations using only the bare minimum of set, props and costumes, along with maximum imagination.
Just as well, too, my budget doesn't stretch to anything more. So Three Chairs and a Hat seems a fitting way to describe the small-scale musicals I've written and staged, with the help of a massively talented group of performers and backstage magicians.
The Three Chairs and a Hat team have so far staged
Verity
,
Daddy's Girls
, and my verse play built around the music of Kurt Weill,
Smoke & Mirrors
. Plans for 2019 include productions of my new two-hander, Melody, and a trip for Verity to the Edinburgh Fringe Festival.