The African savannah was re-created in Didcot's Cornerstone arts centre, at the latest Musical In A Day children's workshop. Joining me for a day exploring 'The Lion King' was dancer Rhonda Sparrey, and together we led fifteen 6- to 9-year-olds through the story, songs, dialogue and movement of the hit musical, even making good use of break-times to draw characters and events for our pop-up gallery. At the end of a busy and creative day our hard-working cast presented a potted version of the musical for their parents. This workshop followed several others in the same series: 'Discover Annie', 'Discover Oliver!', and 'Discover Joseph and the Amazing Technicolour Dreamcoat'.
Pictured are the children's technicolour illustrations for 'Joseph' and some of the home-made masks we used to create the Lion Kingdom.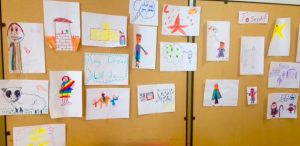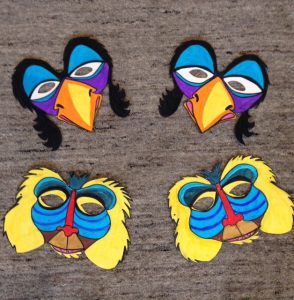 I've also had great fun working with Creation Theatre on their holiday workshop weeks, most recently collaborating with drama leads Eloise Sheffield and Katie Blackwell to devise a piece of musical theatre with a group of 9- to 12-year-olds. At the end of the week they performed 'Villains' to an appreciative audience of family and friends, complete with original songs such as 'Stay at home Wolf' and the Stepmother Rap.