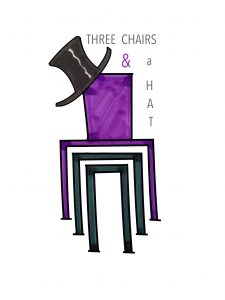 Don't get me wrong, I love West End glitz as much as anyone. My infatuation with musical theatre started in earnest at the age of 12, watching Fred & Ginger movies and Busby Berkeley extravaganzas on the TV. A good, old-fashioned, no-expense-spared show can still make my heart beat faster. But when it comes to staging my own work, my passion is for creating stories and situations using only the bare minimum of set, props and costumes, along with maximum imagination.
Just as well, too: my budget doesn't stretch to anything more. So Three Chairs and a Hat seems a fitting way to describe the small-scale musicals I've written and staged, with the help of a massively talented group of performers and backstage magicians.
Musicals staged by Three Chairs and a Hat include
Verity
,
Daddy's Girls
, and my verse play built around the music of Kurt Weill,
Smoke & Mirrors
. In 2019 we introduced
MELODY
, a
one-act musical with a cast of two creating a world of characters. Melody Smart is a cheerful hotel receptionist who wins a singing lesson in the staff raffle—and finds her carefully constructed life unravelling to reveal secrets, passions, and more than a few buttered digestives. MELODY has played in Oxford, Abingdon and Ross-on-Wye.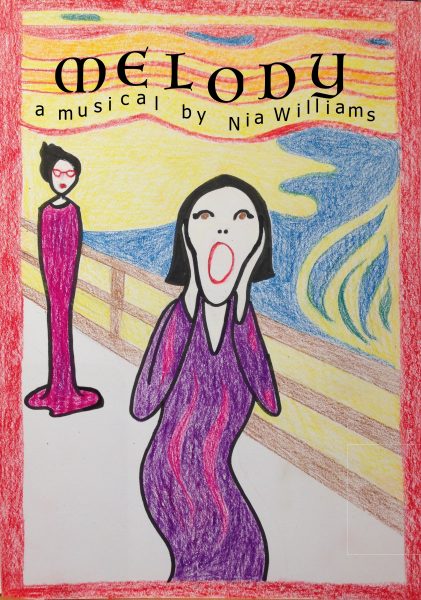 Reviews
'A really compelling piece of theatre'
'Nia Williams is a gifted and imaginative storyteller'
'Poignant, thought-provoking and utterly engrossing'
'Amazing storytelling, clever lyrics and music'
'Moving, funny, fascinating, absorbing' 
'Well written, well directed, well acted—loved it' . —Nicola Lisle, Oxfordshire Classical Music.
Audience feeback
'Brilliantly written and superbly executed'
'Moving, funny, fascinating, absorbing'
'Flawlessly performed'
'Poignant, funny, painful, uplifting and deeply human'
'Amazing story-telling'
'Utterly engrossing'
Watch this space for MELODY: the movie! 
SHAKESPEARE (SHE/HER)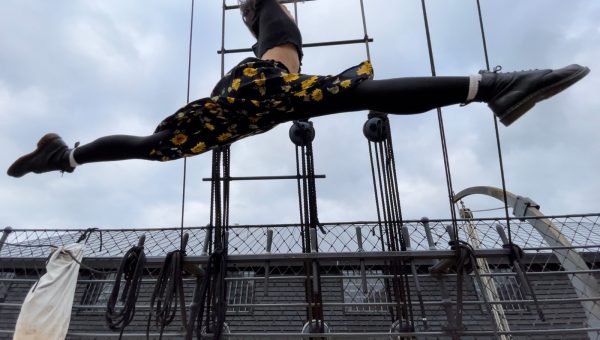 A talented cast of 15 women, directed and filmed by Wayne T Brown, brings Shakespeare's female characters into contemporary contexts in this 35-video project. Launching with a video at 7pm every day on international theatre platform Scenesaver on Friday 15th October, Shakespeare (She/Her) has already had great reviews from the Edinburgh and Brighton online fringe festivals, and will be showcase at the Equality Shakespeare Festival in February 2022, a digital initiative from The Shakespeare Institute and University College London to foster equality across race, gender and class.
Reviews:
'An insightful piece of theatre … powerful … style and feisty passion'—Broadway Baby ⭐️⭐️⭐️⭐️
'Simple snapshots going straight to the heart of each of the women'—LouReviews ⭐️⭐️⭐️
'Fresh, innovative …a fast-paced production that is sure to keep viewers on their toes'—Theatre Weekly ⭐️⭐️⭐️⭐️
'witty, arresting, poignant and powerful … be prepared to see Shakespeare's women in a completely new light'—Dr Chris Laoutaris, The Shakespeare Institute

Click the links below to see our other digital theatre and animation productions:
LADY M: MIDDAY HAGS—the first episode of an animated version of Lady M, a musical based on a vlogger with a past. 
Selected as part of the Toronto Lift-Off Film Festival, 2021
LADY M: MR KING—episode two introduces us to the eccentric boss of Hannigan's Department Store
Finalist, Toronto Independent Film Festival of Cift, 2021
Semi-Finalist, Stockholm Short Film Festival, 2021
Award of Distinction, Canada Shorts Film Festival, 2021
THREE STAGES — an exploration of loss, love and friendship in verse and song; featuring Matthew Allison
Reviews:
'Poetic, musical meditations on the experiences of loss and ageing, they are meditative and honest.'—Donna Kaye Speaks
'Evocative, reflecting the confusion and sense of life's fragility … a gentle sense of rueful regret and puzzlement … very moving'—British Theatre Guide
'Simple yet hauntingly wonderful  … tremendously well performed … a trio of softly spoken yet deep and meaningful pieces of art'—Fringe Review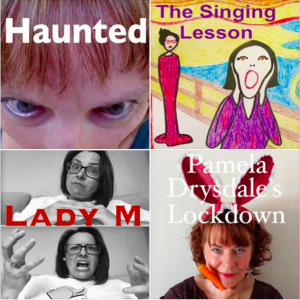 HAUNTED—a dramatised version of my short story about isolation and obsession. Do you believe in ghosts?
Honorable Mention, Best Mobile Short, Independent Shorts Awards, Los Angeles 2021
Semi-Finalist, Indie Short Fest April 2021
Reviews:
'A strong script and imaginative use of technology make "Haunted" compelling viewing—British Theatre Guide
'Nia Williams deploys a poetic knack for helping the audience visualise the frantic, whirling colours of her character's fixations'—Broadway Baby
'Lyrical in spades … Williams' presence alone is enough to ensnare viewers'—The Wee Review
THE SINGING LESSON—Guy Brigg and Marilyn Moore as Evangeline Gibson and Melody Smart in an extract from Melody. Can one Zoom singing lesson help Melody rediscover her voice? Directed by Wayne T Brown.
LADY M—Susanne Hodgson is the life coach you ignore at your peril: a 21st-century Lady Macbeth, issuing online advice and confessions. Directed by Alice Evans.
Review:
'This is a snippet of a future show … and if this trailer is anything to go by … then Lady M certainly promises to deliver'—Broadway Baby
PAMELA DRYSDALE'S LOCKDOWN—Three Chairs performer Jane Hainsworth demonstrates her writing talents for writing in this one-woman comedy of errors about the unintended consequences of Lockdown on a naughty weekend away.
Review:
'The quirky approach makes going for a walk on the wild side with Pamela worthwhile'—British Theatre Guide
VERITY is a 90-minute musical about one woman's ordinary disasters. After playing to full houses in Oxford in 2014 and again in 2018, Verity made her debut at the Edinburgh Fringe in 2019, where audience and press feedback was wonderful!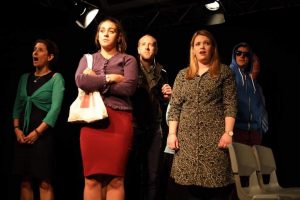 Review
'…a veritable modern masterpiece' … 'an extremely talented bunch' … 'Nia's piano playing … pretty much perfect' … 'she rhymes like a rapper'… 'A fabulous piece on so many levels'—The Mumble ⭐️⭐️⭐️⭐️

Audience feedback
'I loved it! Such great performances from everyone, and fab music.'
'I really enjoyed the story, the fantastic singing and the slick presentation – very humorous, with some comical dance moves …'
'A brilliant show—really enjoyed it'
'It was absolutely bloody brilliant!'

To hear some songs from the show click here — or see video clips of the live performance on the Three Chairs and a Hat Youtube channel.
Scores and scripts of DADDY'S GIRLS, VERITY and MELODY are available for hire. If your group or society would like to stage one of these shows, go to the Contacts page and drop me a line for more information.
For more details about Three Chairs and a Hat you can:
– our Facebook page and give us a Like
– follow us on Twitter and Instagram
– take a look at our YouTube channel
– sign up for our occasional emails about current shows, forthcoming shows and shows that are as yet just a twinkle in the eye …