My main love is writing music and words for the theatre. My new two-person musical, Melody, traces the story of a quiet hotel receptionist with a secret past, and played to full houses at Oxford's Old Fire Station, Jam Factory and Jericho Tavern, Ross-on-Wye's Phoenix Theatre, before rounding off the local tour at the Unicorn Theatre in Abingdon. Melody's London debut at the Phoenix Arts Club, and her week at the Edinburgh Fringe Festival, have been postponed to 2021 due to the Covid-19 pandemic. Meanwhile, Melody makes an appearance at Online@theSpaceUK's virtual fringe festival in August. Among 80 video shows, the festival will feature four contributions from Three Chairs and a Hat, including an extract from MELODY. For more details see the Three Chairs Facebook page.
Verity is a 90-minute musical giving a glimpse into the chaotic life of an ordinary woman – jilted at the altar, facing the sack and hassled by her family. After its debut to full houses at Oxford's Old Fire Station in 2014, the show returned in 2018 to the OHS Drama Studio, before earning a four-star review at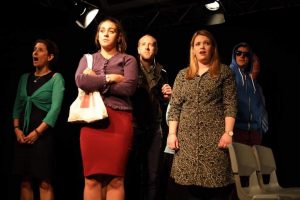 the Edinburgh Fringe: read all about it here!  Cast recordings are available here, and video extracts of the stage production can be found on my Youtube channel.
Other works in the pipeline are Lady M, a one-woman show about a life-coach blogger; The Great, tracing the astonishing life of Tsar Peter I; and Dexter, a 'prequel' to Verity, giving the groom's side of the story.
Daddy's Girls, a 90-minute musical for three voices, traces one day's reunion of three half-sisters, summoned by the mysterious Sister Dora to sift through their late father's effects. As the day progresses, we discover three very different memories of this enigmatic man – as well as the uneasy relationships between the sisters themselves. Daddy's Girls has been performed at the Burton Taylor and Old Fire Station theatres in Oxford, featuring Jane Hainsworth, Rebecca Martin and Sarah Leatherbarrow, and you can hear a selection of songs from the show here.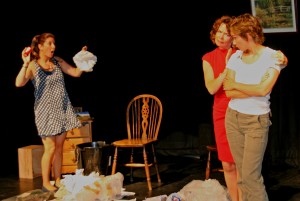 Love Online, a romantic comedy written with Andy Milburn about two singles who live two doors apart but meet on the internet, has been staged by the Quince Players, the Starburst theatre company and Sainsbury's Singers. A selection of tracks recorded live at a pre-production showcase can be heard here.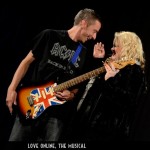 Other compositions include a primary school musical based on ancient Greek tales; a soundtrack for Philip Hind's documentary The Ultimate Survivor, and a piece for the Lunas Dance Company, Time Was, Time Is, Time Will Be, which was performed at the Old Fire Station in May 2014.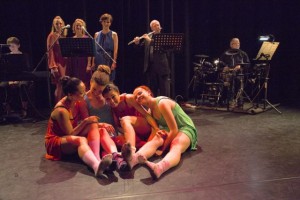 I also write and arrange music for soloists and ensembles (above: performing Time Is, Time Was, Time Will Be with Lunas Dance), and compose songs for special events and for theatre workshops, including Creation Theatre's Put on a Musical Play in a Week projects. 
Reviews and Testimonials
Melody
"A really compelling piece of theatre … poignant, thought-provoking and utterly engrossing"
—Oxfordshire Classical Music
"Clever and entertaining … brilliantly written … you captivated me!"
"Moving, funny, fascinating, absorbing."
"Well written, very current, clever, fun, very, very enjoyable. Well directed. Well acted. Loved it."
"Flawlessly performed."
"Poignant, funny, painful, uplifting and deeply human."
—Audience Feedback
Verity
"A veritable modern masterpiece … A fabulous piece on so many levels"
—The Mumble
"Such a gorgeous and clever score, loved it. Jazzy, catchy, dissonant, interesting"

"Great songs, clever clever lyrics, funny and touching storyline and as for THE CAST – stellar would just about cover it."
"Fantastic lyrics and music, with a great company of singers!"
—Audience Feedback
Daddy's Girls
There is both humour and pathos in Nia Williams's clever new musical … laughter, pensiveness and occasional bickering … entertaining songs and dance routines … wonderful moments … the songs were very catchy
—Nicola Lisle, The Oxford Times 
"Great storyline with a nice twist. Very engrossing … Loved it "
"Excellent – both funny and sad"
"Tuneful, catchy songs with clever, amusing lyrics"
"The acting was superb & I liked the choreography. What fantastic singers!" 
— Showcase Audience Survey