I'm a freelance musician and writer based in Oxford, UK.  Please use the menu to find out about my work, and drop me a line if you'd like to know more—follow the link to the Contact page.

NEW FOR 2021: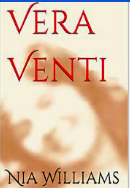 ---
---
VERA VENTI is my 8th novel—a grand, cinematic tale of love, obsession, scandals and lies. It's out in paperback now and the ebook is available to pre-order. I hope you enjoy it!
---
---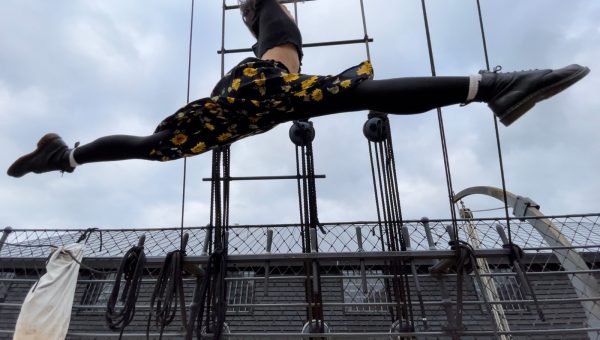 'an insightful piece of theatre' … 'powerful' … 'moving' ⭐️⭐️⭐️⭐️  Broadway Baby  
'fresh, innovative … a fast-paced production that is sure keep viewers on their toes' ⭐️⭐️⭐️⭐️  Theatre Weekly
SHAKESPEARE (SHE/HER) presents monologues and sonnets by Shakespeare's women, placed in 21st-century settings. Featuring a superb cast, directed and filmed by Wayne T Brown for Three Chairs and a Hat, this educational digital project was launched at the 2021 Brighton Fringe, and the second video compilation, FEW ARE ANGELS, featured in the 2021 online Edinburgh Fringe. All videos will presently be available on international theatre platform Scenesaver  and the Three Chairs and a Hat YouTube channel, and there are exciting plans to link up with the Shakespeare Institute's major initiative, Beyond Borders.
CARTOON MUSICALS
During the Covid-19 pandemic we've had to find new ways of sharing music and theatre. In my case this has involved grappling with video-editing and taking my first steps into animation. I've always enjoyed drawing and this seems like an interesting direction to take my musical theatre work.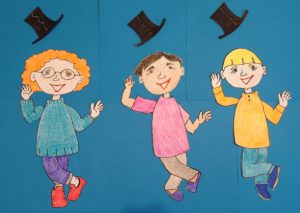 We'll Work Together—This short animation is, set to a song from 'Loom to the Moon,' a musical which I co-wrote with magician Simon Jones to take to children's hospital wards. If you enjoy it, please consider donating to Blue Skye Thinking, the children's charity established in memory of Skye Hall. Details via the video link.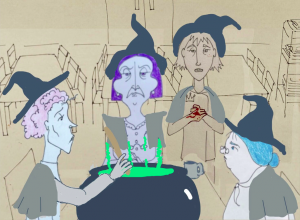 Lady M: Midday Hags
Launched with a taster at the winter online fringe, this animated  version of my musical Lady M will soon be available in four short videos, starting with MIDDAY HAGS, which introduces us to vlogger Lady M and the shenanigans at Hannigan's, a department store wasteland haunted by hags. MIDDAY HAGS has been selected as part of the Toronto Lift-Off Film Festival 2021.
ONLINE FRINGE


Three Chairs and a Hat was one of many theatre groups encouraged to carry on creating by Edinburgh Fringe venue theSpaceUK. Our talented team of performers and directors contributed several videos to the summer and winter digital fringe festivals, and their work can still be seen on the Three Chairs YouTube channel.

One of those videos, Haunted, was awarded an Honorable Mention for Best Mobile Short, Independent Shorts Awards, Los Angeles 2021; and was a semi-finalist for Indie Short Fest, LA 2021. Haunted is also available to view on Scenesaver.