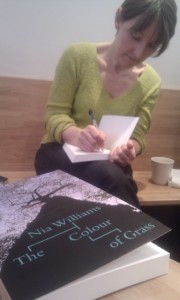 My first novel, The Pier Glass, was published by Honno Women's Press in 2001. Since then I've written seven more novels: Persons Living or Dead (Honno, 2005, Gurning Gnome 2021); The Colour of Grass (Seren, 2011); Birdcage (Gurning Gnome 2013); Hidden Gems (Gurning Gnome 2014); Breakage (Gurning Gnome 2017); Touched (Gurning Gnome 2020) and Vera Venti (Gurning Gnome, 2021). I also write short stories, which have been published in magazines and anthologies, translated into Czech and Welsh and broadcast on BBC Radio 4 and Radio 4 Extra, and BBC Radio Wales. During the Covid-19 Lockdown I rolled out Gurning Gnome's first ever video literary festival, gnomefest, featuring short fiction, extracts, monologues and other work, by me and by other writers, new and established. See the Facebook page for more details.
I have experience of discussing my work at literary festivals, on bookshop and library tours, and on BBC radio and television, and am always happy to hear from readers, book clubs and other organisations to discuss talks, Q&A sessions or other events.
All titles available on Amazon and major e-book retailers.

VeraVenti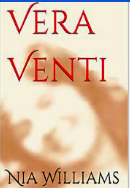 It all begins with a moment of light and shadow. A fairground trick. The moving pictures have arrived in a Welsh valley town, bringing magic and seduction into the lives of the Pitts family. This is the beginning of the story of Vera Venti, child of the cinema. Her journey from Wales to Hollywood and back again is related in all its scandalous detail by her greatest fan. The Director's Cut is a family saga, a tale of the Great Golden Lie of Hollywood, and a tour of the turbulent 20th century—an age reflected and defined by the movies.
Available on Amazon
Touched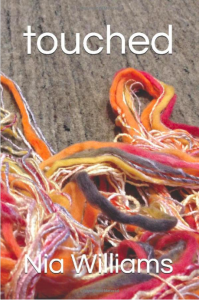 Robin's life has taken an unexpected turn. There's nine-year-old Prosper, with his strange questions and uncertain future. There's Smelly Joe, setting up home under a tree. There's a resident ghost. And there's an unwanted gift from Robin's mother. This isn't the kind of gift you can recycle, or hide in a drawer. This is an abandoned asylum. A tale of eccentric relatives, lost friends, surprising love stories and the small insanities of everyday life.
Available on Amazon
What the critics say

"Nia's observations of people's foibles and idiosyncrasies are a delight, managing to be both amusing and unsettling as she reveals lives inside and out."—
Amazon customer review
"This is Nia's best book to date I think, full of entertaining characters and her distinct wisdom in observing the world as it goes about its business."—
Amazon customer review
Breakage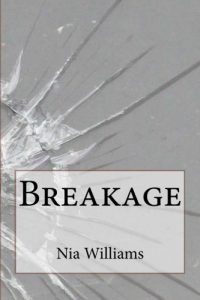 Nathan lives in a world of glass. Since childhood, he's been mesmerised by its beauty and fragility. Now, in his middle age, he's respected as a collector and connoisseur. At his gallery and in his home, he surrounds himself with superb craftsmanship, elegant design, fine music. His daily existence is the only work of art he has ever created. Apart from his regular visits to the cottage, his life is peaceful and serene. Then he sees Rosalyn. And lightning shatters his world. Love and jealousy; power and greed; art and civilisation. How easily things break apart.
Available on Amazon
What the critics say

"True to form Nia's characters come to life with their vibrancy and eccentricities. The glass theme is original and evocative and emphasises the mirroring of art, life and human experience and emotions. All in all an enjoyable and thought provoking read"— Amazon customer review
"An extraordinary story, told with entirely credible detail and some lovely turns of phrase which I now shamelessly make use of. It is a fascinating and moving book"— Amazon customer review
Hidden Gems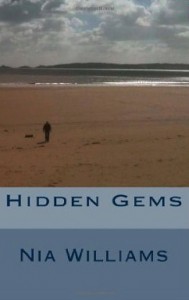 Hestyn is a coastal town untouched by time. As more and more destinations fall victim to war and terrorism and are crossed off his beloved maps, travel writer Wilf Bromley finds himself exploring its dubious delights for his next book, Gems of the Coast. It's a far cry from his past expeditions with Aggie, his feisty co-writer. But Aggie has disappeared, and Wilf's visit to this bleak place is taking a very strange turn, as he's drawn in to the bizarre world of the landlady, the local boffin and the mysterious guest. Then there's the abandoned old manor house on the cliff, which harbours more secrets than any guidebook could contain …
Available on Amazon
What the critics say

"Nia Williams' fifth novel … shows her to be a writer of substance and consistency. Her prose is deft and seamless and she spans the centuries wearing her learning lightly. … The relationships are painful, the analysis is needle sharp, the context rigorous, and the cooked breakfasts deadly. "— Amazon customer review
Birdcage
Millie is flying, up and away from the filth of the city, away from the crazy, crooked labyrinth of the rookeries, those last, teetering remnants of a medieval world, tucked in the shadows of the city. Millie is six years old and dreams of open skies—but sooner or later she must come back down to earth. Birdcage traces 25 years of Millie's story, against the backdrop of London's transformation from medieval city to Victorian metropolis. It's a story of angels and garrotters, thieves and working girls, fraudsters, tale-tellers and all the rest of the odd-bods who form the strange and compelling family of the Manor—a cut above the rest of the London slums.
Available on Amazon
What the critics say:

"Hurrah for characters I really cared about … A first class page turner" — Amazon customer review
"Nia Williams … has created an unforgettable character in Millie … Williams follows her guttersnipe characters across 25 years as they struggle to stay alive (often failing) in alleyways full of thieves murderers and ghosts. … A full immersion in Victorian Gothic."— Maggie Hartford, Oxford Times
"… a wonderful rich luscious take on the era, dark and strange" — Amazon customer review
The Colour of Grass
Helen's family is falling apart. There are no answers from her husband. She can't communicate with her daughter. So she turns to other relatives: the ones who are dead and gone. Immediately, she finds herself floundering in a new world of friends, secrets, enemies and family history enthusiasts. Clandestine meetings, a mugging, and the surprisingly tragic story of her mystery grandmother – all of these weave themselves into Helen's present and her unknown past.
Available on Amazon or from Seren
What the critics say:
"This read will draw you into its story within minutes" — Woman Magazine
"… beautifully written … witty, wry and charming" — Steve Dube, Western Mail
Persons Living Or Dead
As they excavate the garden together, Jayne and her mother-in-law dig up more than old bones and bedsteads. They already share a love and despair for Jayne's errant husband; now they discover another bond, through the story of Jayne's charismatic and difficult mother, Marian Westwood, whose journey from the Cardiff docks to fame on stage and screen draws their lives together and influences their future in unexpected ways.
Longlisted for Wales Book of the Year 2006.
New edition available on Amazon. First published by Honno Modern Fiction.
What the critics say:
"Extremely well written … Williams's compelling style of writing upholds the tension" — Jack Clothier, www.gwales.com 
".. unfolds its subtleties with not a superfluous paragraph" — Welsh Literature Abroad
The Pierglass
Historian James Powell is living with two unexpected guests: his ex-girlfriend and a 15th-century poet. As he struggles to cope with the chaos of one and the mystery of the other, a network of stories is gradually revealed, interweaving lives from the Tudor era, the 1890s, the 1950s and modern-day Cardiff.
Available on Amazon or from Honno
What the critics say:
"An impressively assured, many-layered and thought-provoking first novel" —Sue Morgan, Planet
"… astonishing in its masterly use of clever plotting and the interleaving of past and present in a seamless whole" — Meic Stephens, Western Mail
"… an elegantly written, confident appearance by a writer who already knows how to turn words into a world" — Jon
 Gower, www.gwales.com