Opera Anywhere's touring productions have entertained audiences around the country in theatres, schools, village halls,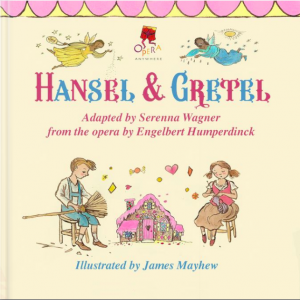 cowsheds and even an air hangar. Some shows feature locally recruited chorus singers; others follow workshops with schoolchildren, who then join in the action. I have great fun as the MD and pianist, and along with flautist Nick Planas, percussionist Dave Hadland and cellist Rosie Burchett I enjoy the challenge of accompanying a production where anything might happen! The programme includes operettas and operas by Gilbert & Sullivan, Puccini, Mozart and Humperdinck, and several modern one-act operas, including Menotti's The Telephone, Samuel Barber's mini-opera A Hand of Bridge, William Walton's The Bear, and Menotti's The Old Maid And The Thief. In 2019 we added 'Hansel & Gretel' to the repertoire, in a beautiful new production by Serenna Wagner. This has now become the basis for one of a series of 'learning through opera' digital projects for children aged 8 to 12, with an audiobook featuring specially commissioned illustrations and wonderful text by Serenna and recordings, and video modules exploring the music, characters, costumes, set and lighting.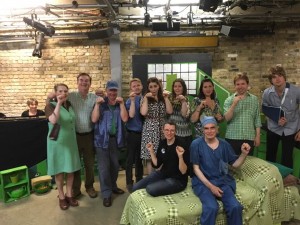 One of the best things about being a pianist is getting to play the role of 'orchestra' for smaller-scale productions and performances. As well as enjoying the rich and exciting operas of Mozart, Puccini and others in my regular work as MD and pianist for Opera Anywhere, I've had the opportunity to accompany some thrilling close-up opera at the Arcola Theatre in London, where Paula Chitty's company Irrantional Theatre presented a dramatic double bill of 'Gianni Schicchi' and 'Pagliacci' as part of the annual Grimeborn opera festival. 'O Mio Babbino Caro' is the best-known aria in Puccini's witty tale, in which Gianni Schicchi uses his impersonating skills to take revenge on his snobbish family; and in Leoncavallo's highly emotional melodrama, based on a real murder case, professional clown Pagliacci lets reality break into performance, with violent and terrible consequences. Two original and involving productions, and two nights of excellent and accessible opera.
Stuart Pendred's inspiring Oxford Opera Company brings opera to new audiences, with a winning combination of superb professional singers and community and school choruses. It's been a privilege to work for OOC as répétiteur and in the pit with the Oxford Chamber Orchestra, for a concert performance of Puccini's 'Tosca', featuring international soprano Lee Bisset; and two fully staged productions at the Oxford Playhouse, both directed by Paul Carr: 'Carmen', with renowned mezzo Hannah Pedley in the lead role; and in 2020, a stunning version of 'La Bohème', with the latest stars of the opera scene Sam Furness and Marlena Devoe as Rodolfo and Mimi.