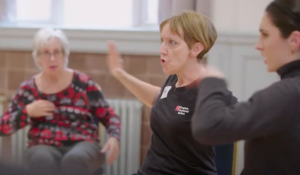 One of the most rewarding aspects of my job is involvement in projects that take music and movement to sectors of the community who might not otherwise have that access. As well as co-leading the ENB's Dance for Parkinson's programme, I work with dance artists Roosa Leimu-Brown and Louisa Dalton to deliver music and movement workshops as MuMo Creative.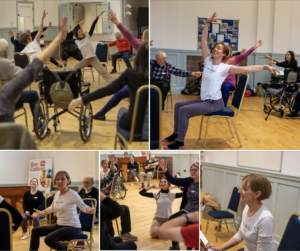 Drawing our respective backgrounds in biology,  history and dance, we build our sessions around story, science, and themes tailored specifically to clients' needs—such as a series of workshops for older people, based on the Museum of Rural Life's collection, and sessions for the Oxford Playhouse exploring music, movement and story linked with productions taking place in the theatre. For more details, see our website.
I've joined forces with a number of dance artists to create live music sessions in hospitals and homes around the area, including a project at Witney Community Hospital, visiting the wards and day room to bring some song and dance into the daily routine. Dancer Rhonda Sparrey and I were among 12 practitioners funded by the FLOURISH programme to encourage the use of arts among people with dementia. We led a course of eight Dance for Dementia workshops at the Christchurch Centre in Henley, featuring themes such as A Night At The Theatre and A Day At The Seaside. Here's a short film about our work, which gives some idea of the extraordinary power of music to revive and reconnect.
It's been a privilege to work with talented dance practitioner Danielle Teale, creator of the DfP programme, on a variety of projects, including a weekend of DfP workshops in Glasgow for Scottish Ballet, and an introductory course for DfP teachers at the People Dancing conference in De Montfort University, Leicester.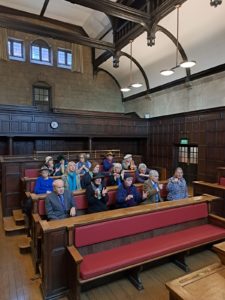 In 2019 and 2022 I  joined a chamber group of musicians in Suffolk to record the music for HerStory, The Catchpole Chronicles. This opera, scored by composer Amy Mallett in collaboration with people living with Parkinson's Disease, was inspired by the story of 19th-century convict Margaret Catchpole.  Community arts company Cohere Arts, headed by Amy and Nicola Wydenbach, have developed the project into a wonderful film involving Dance for Parkinson's groups around the UK. In Oxford, our workshop company MuMo Creative explored the opera at our weekly DfP sessions, and some participants featured  in movement sequences, and in a very dramatic trial scene filmed at the old courtroom in Oxford City Hall! The film's launch takes place in Suffolk in July, and the project is being presented at the World Parkinson's Congress in Barcelona.