VERITY – ditched at her wedding, nagged by her mum, hates her job … and it's only Monday. This short musical gives a glimpse of Verity's life, friends and family, with a lot of songs along the way. After great feedback from two Oxford productions, Verity made her debut at the Edinburgh Fringe in 2019, where we were rewarded with a four-star review from The Mumble. And now VERITY, along with her companion piece DEXTER, giving the groom's POV, returns to Edinburgh in 2023! You can see them on alternate nights from 21st to 26th August, at theSpace at Symposium Hall (The Annexe), and the show goes on sale on 16th February.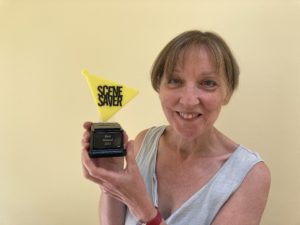 A video of our original production is available on Scenesaver. We're delighted that Verity was voted BEST MUSICAL in the 2022 Scenesaver Birthday Honours Awards.
Here are some quotes from our Fringe review:
'…a  veritable modern masterpiece' … 'an extremely talented bunch' …  'she rhymes like a rapper'… 'A fabulous piece on so many levels'
And here are some audience reactions:
'I loved it! Such great performances from everyone, and fab music.'
'I really enjoyed the story, the fantastic singing and the slick presentation – very humorous, with some comical dance moves …'
'It was absolutely bloody brilliant!'
To hear some songs from the show click here — or see video clips of the live performance on the Three Chairs and a Hat Youtube channel.
VERITY scores and scripts are available for hire. If your group or society would like to stage it, go to the Contacts page and drop me a line for more information.